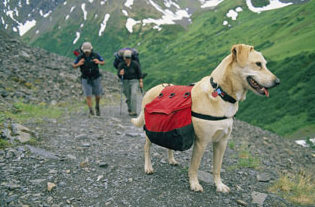 It's something every dog owner can agree upon: our canine comrades make a career out of making us happy – and sometimes that can be a full-time job. Next time the family needs a refreshing escape from the city, why not give your pup a vacation, too?
From a spacious fenced enclosure nestled beneath the cedars, to a cozy washable dog bed, to a fully-stocked "doggie basket" complete with treats and personalized cabin ID tags, our Little Bears Cabin and our Three Bears Lodge cabin have been outfitted with thoughtful amenities to make Fido's stay at the mountain as wonderful as your own. The Nisqually River is just a hop, skip, and a springing leap away from our Three Bears Lodge cabin, where you can walk along the levy for miles.
Although dogs aren't permitted on the trails inside the National Park, the one exception is the Pacific Crest Trail that runs along the eastern border of the park. Hikers find themselves strolling through sub-alpine forests, passing lovely lakes and ponds, waterfalls and meadows filled with summer flowers. This hike offers spectacular views of Mount Rainier and other distant peaks.
Outside the National Park there are a multitude of trails in the Gifford-Pinchot National Forest and leashed dogs are welcome. One of our favorites is High Rock Lookout, which offers incredible views of the Sawtooth Ridge, Mount Rainier and the surrounding peaks. The trail head is just 10 minutes from our dog friendly cabins.
There's no shortage of outdoor adventures to explore and enjoy with the whole family!
We guarantee a tail wagging good time!